The Blue Bubble team is thrilled to announce the qualification of Yann Blondel for the 2019 Mini-Transat! The Blue Bubble Boat and skipper Yann Blondel had one last leg, 1000 miles at sea, to complete. After 9 days on the water he was able to come back to tell us about his adventure, which wasn't at all easy...
DAY 1 - The departure took place on Thursday, August 16th 2018 at 5pm, in Saint-Gilles-Croix-de-Vie, located in Vendée on the west coast of France. After a quite hectic night, Yann set course for the tip of Brittany.
DAY 2 – Then the problems begun. While still navigating to the tip the boat's battery was weakened by a faulty solar panel. But that wasn't going to stop our passionate skipper. He had the wonderful meeting of a pod of dolphins, which were special memories that day.
DAY 3 – Sunday, August 19th, Yann passed the island of Ouessant, west of Brittany, historically known as the starting point for the Jules Vernes trophy. His journey saw him continue towards the Isles of Scilly despite a stormy sea.
DAY 4 – Passing the Isles of Scilly the next day brought with it many obstacles, from fog to cargo ships, proving anything but smooth sailing.
DAY 5 - Yann finally arrived at the end of the "outbound" leg passing the Coningbeg buoy. He was also able to see and be warmly greeted by a passing Irish army ship, which ended up accompanying him for a mile. The return leg could now begin.
DAY 6 – When passing along the English coast, the boat had to dodge fog and fishing nets to avoid damage.
DAY 7 - Thursday 23rd August, the traffic on the English Channel was dense, with many cargo ships standing just in front of our sailor. But the sea was calm so Yann could sail by the ships and continue his journey.
DAY 8 – This is when the Blue Bubble Boat spinnaker was rolled out during the crossing of the Bay of Biscay! A crossing described as "magical" by our skipper.
DAY 9 - Finally, the final leg for qualification, the crossing of the bridge of Ré. The 1000 miles were now covered!
And so it was on Sunday August 26th, after a magnificent route, that Yann was finally able to reach the town he started at, Saint-Gilles-Croix-de-Vie. A race that was by no means easy, but one that earns him his ticket for the Mini-Transat 2019. There will be further training planned before then, but it's a huge step for such a young sailor.
All of the Blue Bubble team salutes Yann on his qualification!
Photo shot by night on board of the Blue Bubble Boat :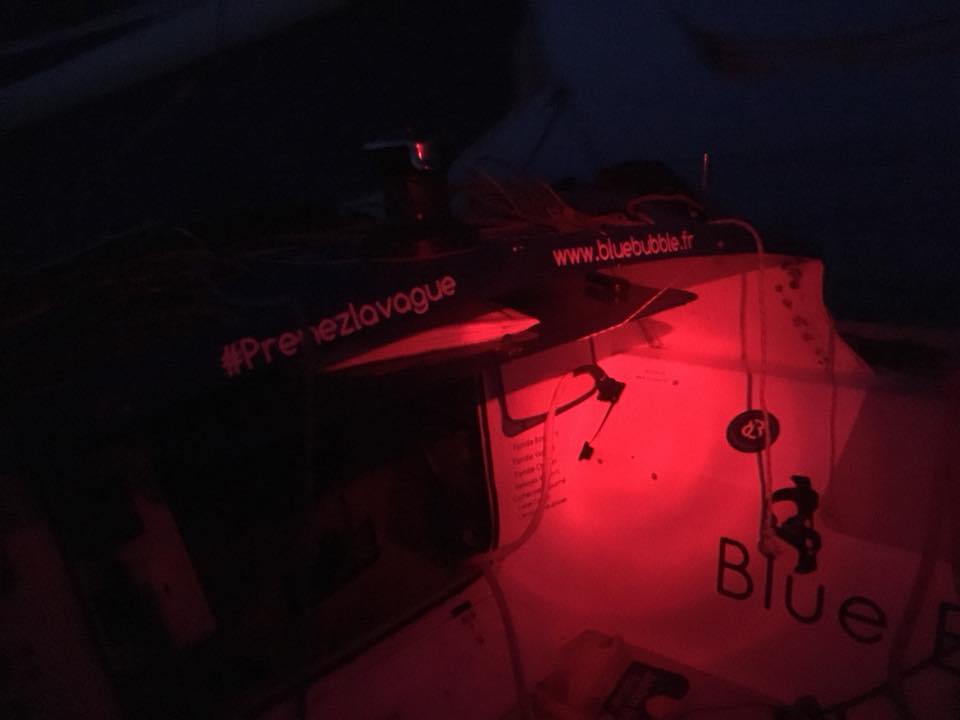 ————
Stay tuned ! #PrenezLaVague